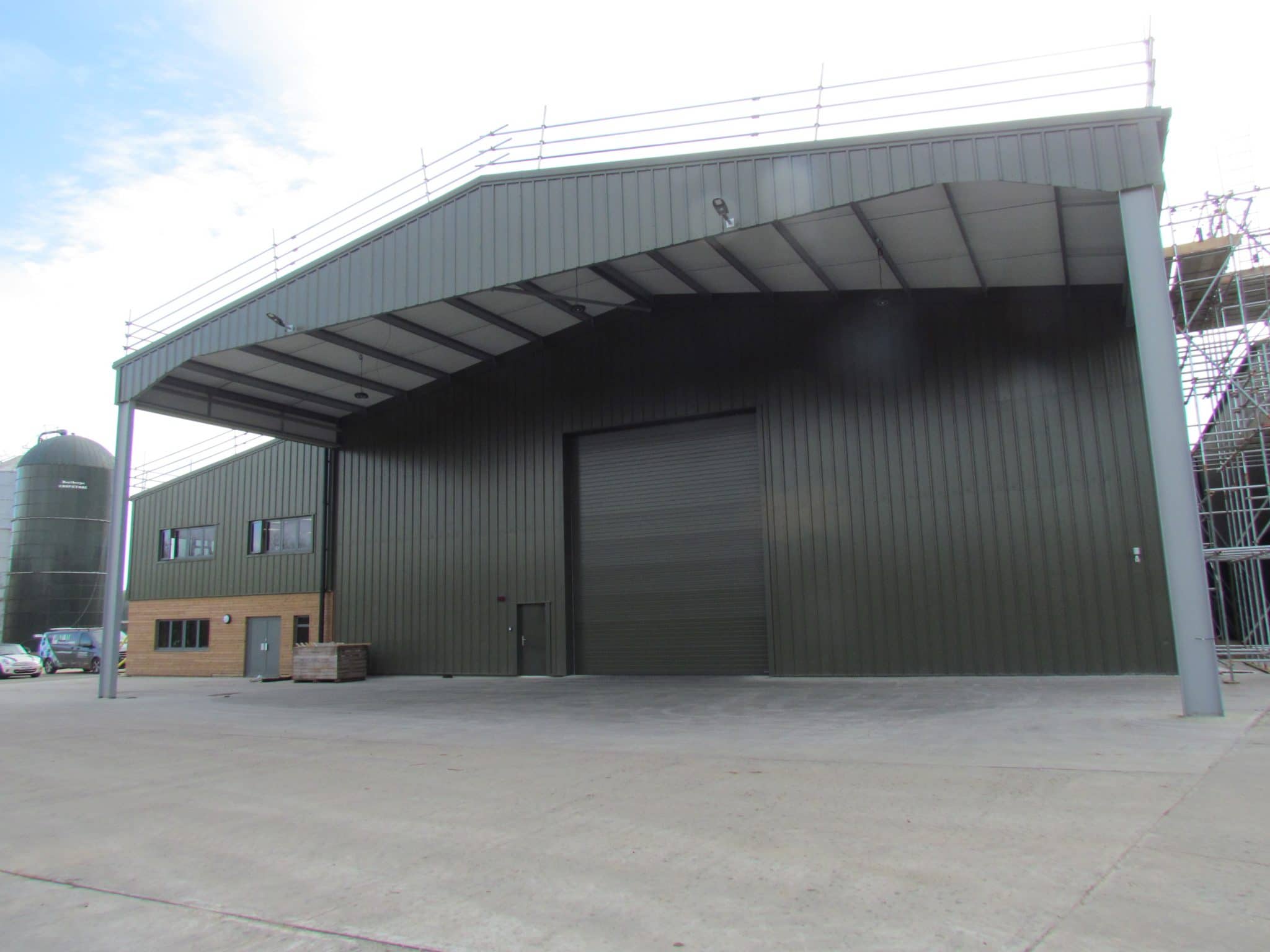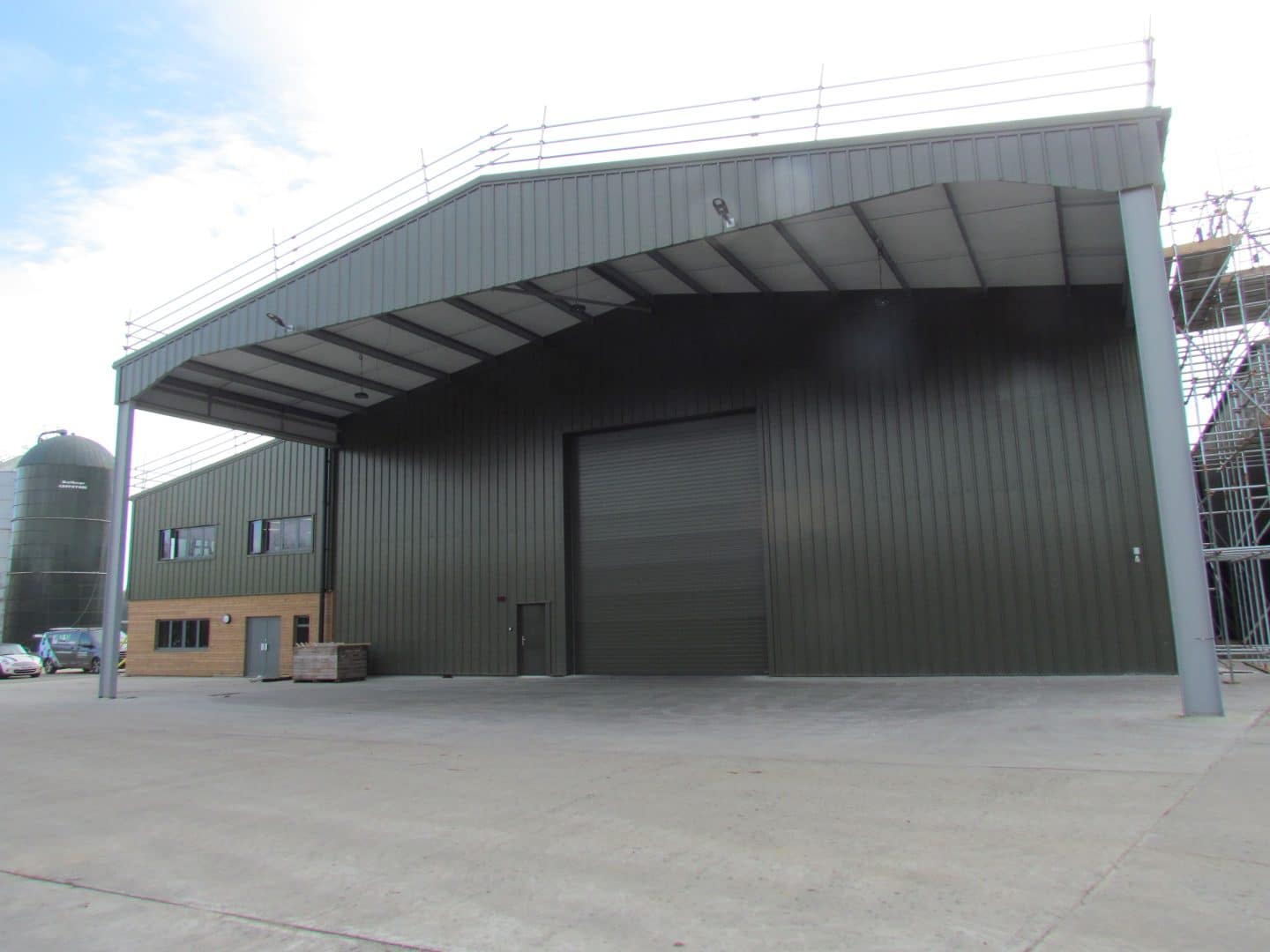 SID testimonials
It's always good to know that someone else has undertaken a successful project that you too are considering. Below are just a few testimonials of some of the work we have undertaken.
Please feel free to contact us for more details of how we can help you.
Potato business future proofs with new storage project
Since the mid 1970's, the Specialist Installation Division at Thurlow Nunn Standen Ltd, formally Thurlow Nunn Farm Services, have specialised in the provision of facilities for all agricultural crops including grain, potatoes, onions, fruit, bulbs, carrots, red beet and fresh vegetables.
The Division recently completed a 2,200 tonnes box potato storage facility in Oulton, Norfolk, after it was identified as being required owing to a lack of suitable crop storage on-site. The project also incorporated chemical storage, sprayer filling area and a contemporary 390m² of office space.
The project discussions began in 2017, with planning finally granted by Broadland District Council in October 2018. This followed numerous delays during the planning process caused by local residents concerns over the perceived noise from the fan units. Nick Harrold explains "We needed to be able to meet market demands and felt that our existing storage space was not equipped to do so, so we are now future-proofed with this new facility".
The build features 2no. humidification control units, for moisture control to the potato crop, as well as state of the art web-based temperature and humidity control system. Nick adds "We found that the knowledge and experience of TNS was invaluable during the whole project. Jeremy Nunn and James Williams were very responsive when required and we also believe Jeremy did a great job managing the prolonged planning process to ensure a successful outcome despite local objections".
Jeremy Nunn, Director of SID, explained some of the complexities of the case: "We managed the project to completion right through from the initial design stage. We ensured that, despite the concerns of the local residents, the noise from the fans was no more than a 'rustling leaf' or a 'babbling brook'. It was great to have the challenge of designing a potato store, contemporary offices, chemical store and sprayer filling are all under one roof that now has the benefit of a large solar PV array. We are delighted that our client is pleased with the end result and that we could achieve his initial objectives in full".
Being environmentally conscious can improve the bottom line
Grain storage and the environment go hand in hand at the extensive grain storage facility at Hemsby, nr Great Yarmouth, for G W Daniels.
The facility boasts a central 3000 tonne grain store stored to 4.2m with grain stirrers, lean to's capable of housing additional grain storage with low volume ventilation, a chemical store, workshop and sprayer shed. The site also benefits from a new site entrance, weighbridge and portable cabin office space and fuel storage facilities.
The Specialist Installations Division won the contract on competitive tender with a key feature of the tender being the ability to ensure a central point of control of the project with sister company Balsham Buildings completing works for the facilities. SID worked closely with David Ellis from Acorus Rural Property Services, who managed the project.
Jeremy Nunn explains: "As well as cutting edge technology being utilised in the new buildings a key feature is the environmental aspect of the works, with a rainwater harvesting system in place for sprayer filling, using special filters and an above ground storage system, and the inclusion of a bio-bed for water treatment on site. The building was designed for the installation of Solar PV".
"Environmental impact and consciousness is a key feature of modern designs; whilst minimising the impact on the environment these design aspects can have a positive impact on the bottom line of a business in the long term."
900T rape store conversion
What do you do when you have a 30+ year-old bin store that in unsafe to use, dusty and very time consuming to operate?
That was the dilemma facing Newton Farms, nr Cambridge, who called in Thurlow Nunn Standen's Specialist Installations Division (SID) to undertake the conversion into a flat 900 tonne rape store.
James Wilmott of Newton Farms explains: "At the start of the process we sought comparative quotes and decided to ask SID to undertake the work because we liked the fact that the quote stated a final figure, unlike other quotes where there is the potential for add-on costs. TNS originally built the store back in the 1980's and we have worked with Jeremy Nunn, TNS Director at SID, before. We like Jeremy, we like the work SID do and you know you will get a really good end product of quality workmanship."
Jeremy Nunn adds: "The conversion was principally for the storage of rape and included gutting the building of all the previous grain handing equipment and the installation of all modern up to date equipment." The work involved stripping the building of the old steel grain walling panels and reinforcing the structural frame to take the horizontal concrete retaining panels. Removal of the gable end of the building and installation of two new electrically operated roller shutter doors, central steel duct and hardwood drive over floor.
The work was completed with the conversion from an engine driven fan to electric fan with the associated humidity and temperature control so essential for efficient crop drying to the required standard. James Wilmott concludes: "You get what you pay for with Jeremy and SID, a jolly good job."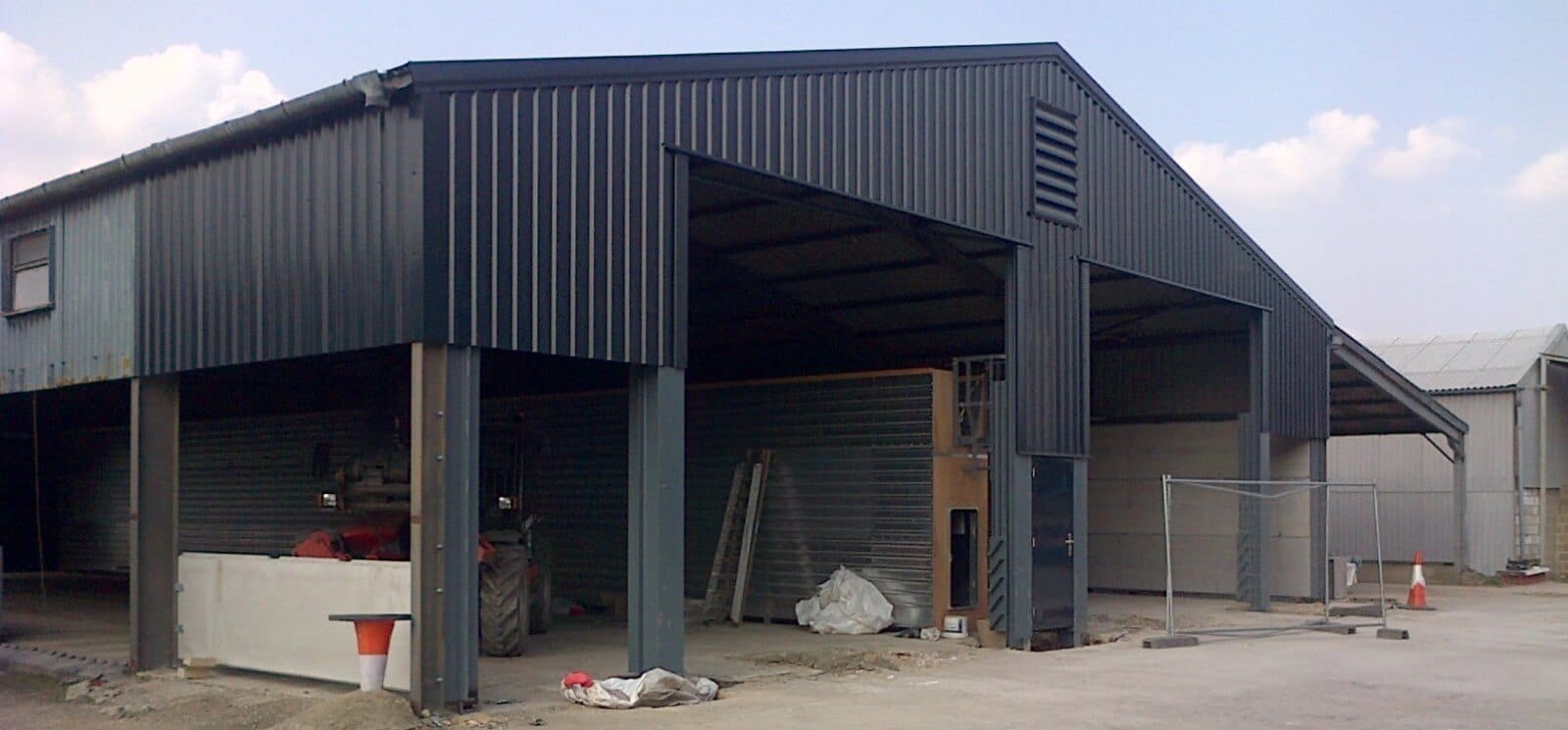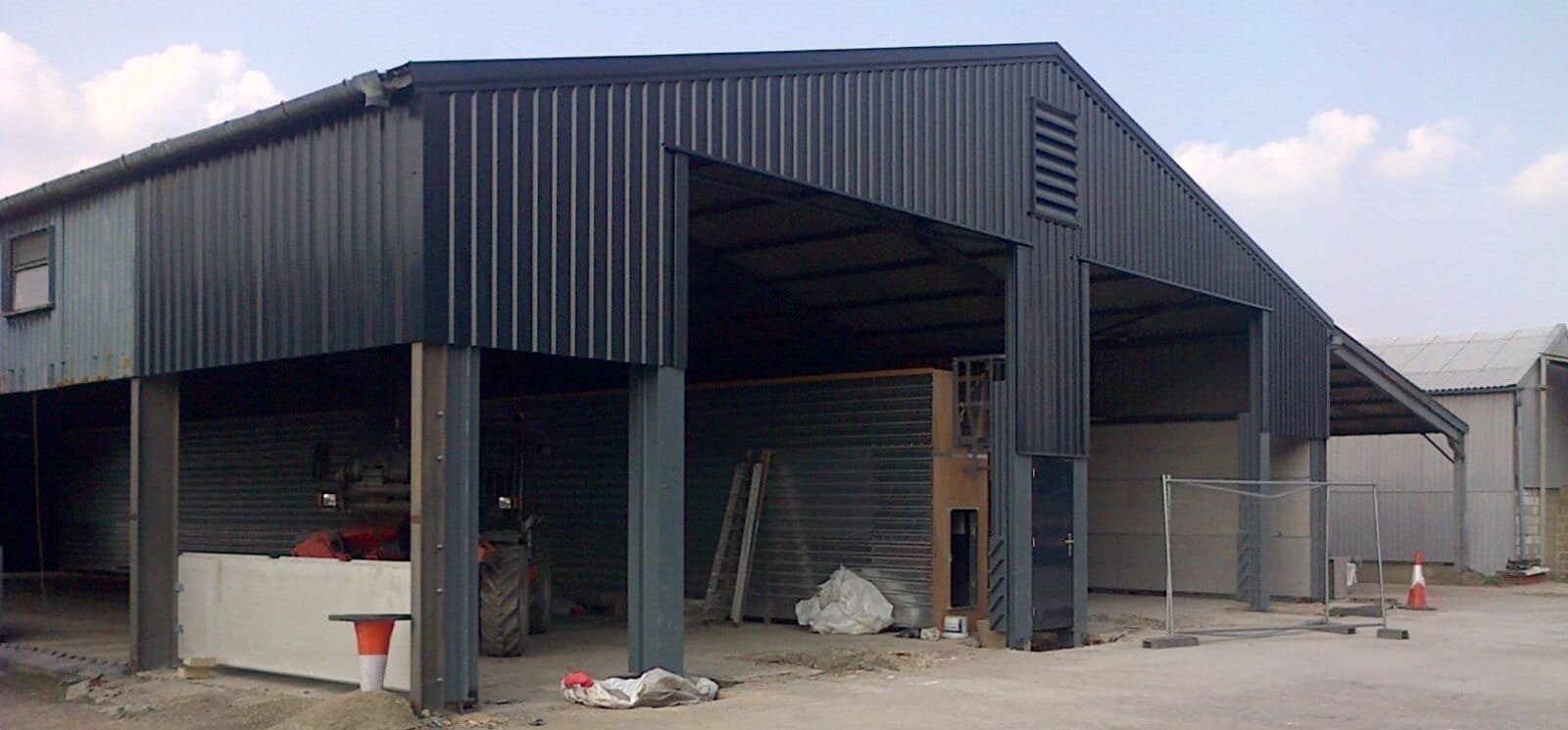 Future proofing the business
The Specialist Installations Division of Thurlow Nunn Standen recently completed an enhancement to E J Barker & Sons new 1,800 tonnes grain store at Kiln Farm, Great Ashfield.
For the 2014 harvest TNS erected a new grain store on the site of an old farm general purpose storage shed. This created a satellite hub for the business thus allowing the company to expand the farm contracting work they undertake. The recent installation of the second drying floor area on the opposite side of the duct for this season is a welcome development completing 1,200 tonnes of drying capacity plus 600 tonne of on floor storage.
Brian Barker explains: "In 2014 we took on extra land but there was no on-farm storage, we felt that it made better business sense to have our own store because we do our own grain marketing".
"Kiln Farm was the perfect site for the new store so we started the process of speaking to a number of different companies to arrange quotes for the work. We have a long history with TNS and naturally we asked them".
"All of the companies quoted very similar prices for the job but we felt it made more sense to appoint Jeremy Nunn of TNS. This gave us real peace of mind – knowing the level of service we would receive. The feedback from other people regarding the quality of work we could expect from Jeremy was extremely good."
The historical ties between TNS and E J Barker & Sons go back a long way. Matt Boardley of TNS' Hinderclay branch provides support to the company with their machinery requirements. Matt adds: "E J Barker & Sons are valued long term customers of TNS and over the years we have built up an understanding of what machinery their business requires. We are confident that Brian knows that he can rely on TNS for his business needs."
Describing the process as "very smooth and easy" Brian explained that they already had a design scope for what they wanted on the site and so, with innovative ideas from Jeremy Nunn, 'played' with the design. The new store provides the flexibility to fill all their new and existing buildings and really manage the grain, giving real peace of mind should there be adverse weather.
Building a high storage shed, 6.75m (24') to the eaves, provides the ability to tip an articulated lorry in the centre. With a wide range of crops being produced including winter wheat, OSR, spring barley, linseed and spring beans, the sheds are a welcome addition with three distinct storage areas.
Attention to detail is not wasted, with ecologically sound practices being offered. Rain water is harvested into a 96,000 litre storage tank so that the whole farm can be sprayed twice. Using the rain water will mean that the softer water will be better for the plants and sprayer nozzles alike. As the roof is south facing Solar PV is proposed.
Brian adds: "Each floor will hold 600T and that is one day's combining, making it so much easier – we know we can just open the doors and tip in the sheds. Holding 3 days' combining we could tip onto the floor to dry at 15.5% and then move to concrete floor if we want to.
"During the construction of the store everything was handled brilliantly, with the level of detail very impressive. We had to submit additional environmental impact reports for the planning permission owing to the high concentration of Great Crested Newts near-by, however, the whole process was handled very smoothly."
Jeremy Nunn, Director of S.I.D. adds: "We were delighted to continue the long term association with E J Barker, particularly being able to assist in the incorporation of rainwater harvesting and re-newable energy."
Brian concludes: "The construction of the store will pay dividends in the future and following in my grandfather's footsteps I'm future proofing our business, like he used to say, 'farming is only going to get bigger'."
Latest technology and innovation reap rewards
PJ Lee and Sons commissioned the Specialist Installations Division of Thurlow Nunn Standen Ltd to design and manage the construction of a new 10,000 tonne potato store complex in Cambridgeshire.
The store comprises 7no. storage chambers averaging 1,500 tonne capacity stored in 1.2 tonne boxes. There is also a clear central open space area of 2,088m2 which provides for grading and short term storage.
Christopher Lee of PJ Lee was keen to incorporate the latest technology within the stores and Omnivent Teckniek from the Netherlands installed their suction ventilation system which provides for high ventilation levels, humidification and even heaters to ensure that the crop can be quickly dried off in those late wet years.
This suction system will work in conjunction with a central refrigeration plant designed and installed by JD Cooling Ltd of Kings Lynn. A central glycol chiller will provide cooling to 6no. of the chambers with the refrigeration load being able to be directed wherever it is needed.
A 250 kW solar PV system will provide a significant contribution to the energy requirement of the store. With such a large building it was a challenge to ensure as much of the building as possible could be directed to face south avoiding valley gutters and provide clear access below without columns obstructing access. This was achieved with an innovative steel design.
1150T box new-build potato store
An 1150T box new-build potato store was undertaken for Dennis (Haddenham) Ltd, based in Cambridgeshire.
According to Peter Dennis there wasn't any hesitation in asking Jeremy Nunn of the Specialist Installations Division to do the job. He said: "It was our experience of working with Jeremy in the past that made the decision to invite him back an easy one. They did a good job the last time."
Over the years Dennis (Haddenham) Ltd have worked with Jeremy for building conversions and grain dryer installations as well as a similar project, to this new-build, in 2001. Jeremy adds: "This was not the easiest of sites to work with and it has involved negotiations with planners and the Highways Authority but it is a pleasure to be working with the Dennis family again."
Multi purpose store
Professionalism, value for money, reliability and the attitude that nothing is too much trouble. These are the words used when describing Jeremy Nunn and Thurlow Nunn Standen's Specialist Installations Division.
Dean Bowd, of Bowd Farming Company Ltd, sums it up with: "He knows his stuff, and that is what ultimately won the contract."
The TNS Specialist Installations Division (SID) won the contract to build and equip the multi purpose store at Saracen's Head in Lincolnshire for Bowd Farming Company. The Company are tenants of the Crown Estate and in October 2010 the business almost doubled in size highlighting the need for a purpose built store to cope with the increase in production.
The end result is a 1000T insulated bulk store with high capacity fans selected for grain drying and potato cooling, hardwood drive on floor, high level air mixing box with automatic louvres and temperature control for long term storage of potatoes. The store is in two halves with a further phase of development for PV solar panels fitted to the south facing roof to provide 'green' energy.
Talks about the work started in November 2010 but it wasn't until May 2011 that planning permission was granted, instructions given by Carter Jonas, the landlords agents, with work starting on site in August 2011. Alan Giles, Managing Partner with AMG Farm Business Consultancy added: "Jeremy, Dean and I all worked very closely on the planning permission, and store design which is to a very high standard".
Delays in the granting of permission related to considerations for nearby residential property and the requirement of a decibel level of just 35dbA, which SID have achieved with sophisticated attenuation equipment.
"The first harvest the store will provide bulk storage but future plans are envisaged for this to alter to storage of 1T boxes, which has been incorporated into the design"
Alan explains: "Originally the work went out to three tenders but Jeremy won the contract with his strong knowledge base and professional attitude. With the ground breaking taking place as late as August and completion in October, this only strengthens our belief that we chose the right company to do the job."
Dean adds: "We had high expectations of Jeremy and SID and I'm pleased to say these have been far exceeded."
Specialist potato store
A project for a 1100T box potato store was successfully tendered for and completed.
The reason SID were chosen to do this work was because Jeremy was the only person to quote for an 'all in' package and it was judged that it would be far better to award the contract to someone who had complete control over the project.
Working closely with the company's agronomist, the store has been designed with a high ventilation rate for initial drying out of the crop, with ambient air, so important for successful trouble free long term storage for the high quality required for the pre-packed markets. After which the fans are inverter controlled to match the requirement of the refrigeration evaporator with periodic ambient ventilation for CO2 control.
One of the main attributes of the project is the variable power capability which means there is more power when it is needed to move air and the ability to reduce power to save electricity when it is not needed. Ultimately the initial extra investment will be saved over a 3-3 1/2 year term, simply by using this automatic feature to control the compressor speed.
The company involved confirmed that, although this is the first time they have used Jeremy and SID, the experience has been very good and they know that if they have any questions they can go straight back to Jeremy who will take care of it.
Storage conversion is a real asset
When you need a bespoke installations project, finished on time and to budget, the recommendation from Richard Garnham, Estate Manager of Lord Cranworth Farms, is to go to Thurlow Nunn Standen Ltd (TNS) and speak to their Specialist Installations Division.
Richard explains why he chose Jeremy Nunn of TNS to undertake their project, "Basically, Jeremy and the tender he submitted ticked all the boxes. We originally had three tenders for the work and although Jeremy's quote was not the cheapest, we were impressed with his tender – there were no hidden extras. We were confident that we would pay the cost that was quoted and nothing more".
"Lord Cranworth Farms has a long history with TNS for its agricultural machinery and we're proud of this association, so choosing TNS was a natural choice."
The project was to supply and install a fully ventilated on-floor drying system in a 1967 grain store at Manor Farm, near Ipswich. Since 2007 the main arable farming has been on a contract basis. Because there were no on farm drying facilities it was decided to adapt one of the two existing flat grain stores, either the 1967 or 1996 building.
Richard explains: "The older building needed some work anyway and so it was decided to go ahead with this store. We first looked at the project in Autumn 2010 with the decision made to go ahead in March/April 2011. We were very impressed that Jeremy and his team ensured the project was completed in time for harvest."
Jeremy added: "These conversion contracts form a very important part of our business and the challenge is always to make the most of an existing, often underutilised, asset. The satisfaction is often greater than some of the new contracts that we also undertake, particularly for such a respected customer."